The Future of Provider Data Management
FolioMed provides groundbreaking provider database management solutions
Meeting Provider Data Challenges
FolioMed is bridging the gap between legacy databases and accurate Provider data to reduce medical record and billing errors and to increase the effectiveness of clinical communications.
Accurate and Current Databases
FolioMed databases are updated daily through a combination of accessing regulatory files, direct Provider contact and customer files/updates
Operational Databases
FolioMed databases are used for critical operational processes and clinical correspondence because of accuracy and comprehensive coverage of the Provider universe.
Cost Effective
FolioMed databases impact costs by reducing administrative expenses and medical errors, and the costs of delayed reimbursements.
Providing the Best Healthcare Databases
FolioMed provides its customers with accurate, census provider databases. The uniqueness of the databases results from a combination of data gathering processes ranging from sophisticated software programs to analyze disparate public and non-public electronic files to systematic direct contact with physicians and healthcare facilities to verify information. FolioMed relational databases have unique Provider identifiers from Boards of Medicine in states to national identifiers (National Provider Identifiers, etc.). FolioMed cross references identifiers with its own proprietary identifiers for Providers, and equally important unique identifiers for Healthcare Facilities and sub Facilities. In addition FolioMed maintains proprietary codes for medical schools attended, medical specialties (linked to and expanded from medical Taxonomy classifications), type of medical practice and hospital affiliations.
Our Mission
"To improve the clinical and economic efficiency of our customers by providing the most accurate, current, comprehensive, and operational database of Providers and Healthcare Facilities available."
50 Years of Actionable Provider Database Solutions
FolioMed has evolved from a single printed Physician Directory of Massachusetts in 1972 to providing sophisticated electronic Provider Data solutions to leading healthcare organizations throughout Northeast U.S. In the course of that evolution FolioMed transformed simple desktop publishing applications to proprietary programs utilizing relational databases and AI to manage and manipulate multiple internal and external databases for world class accuracy. Being in the forefront of Provider databases accuracy FolioMed also developed proprietary identifiers for both Providers and Healthcare facility physical locations and proprietary tables for medical specialties and medical schools. These developments enable FolioMed to efficiently assess and analyze numerous external files and relate them to FolioMed's own reference databases.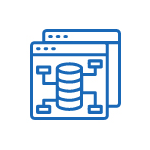 Provider Database Management
Boards of Registration
NPPES Databases
Exclusion Lists
Proprietary FolioMed files
Provider Databases
Census files by state or region
Standard or customized file structure
Multiple practice locations and medical specialties
Board numbers, NPIs
Medical school, year of graduation
Online Database Access
Link to ''Live'' FolioMed files via Internet
Database updated daily
Read only Access
Query by Location, Medical Specialty, Location, NPI
Frequently Asked Questions
The most commonly asked questions about FolioMed's Provider Data Solutions.
How External Provider Database Management is helpful to you?

Our provider database management solutions provide synchronized external and internal files for medical record accuracy, lower administrative costs and improved clinical communications with referring and other Providers. These services are also effective in the patient engagement admission process and reducing later billing delays/denials.
How can FolioMed's Provider Databases be applied?

Folio's state-of-the-art Provider databases are up to date accurate census files by state or region displaying Providers' multiple medical specialties, board numbers, practicing addresses and contact information along with key identifiers such as NPIs. The databases are critical for professionals engaged in facility planning, physicians supply analysis, provider recruitment, medical specialty cluster analysis, and much more.
What are the features of Online Database Access?

Our online database contains essential information for accurately identifying Providers based on a number of demographic parameters including name, location, medical specialty and NPI. Online access services are particularly critical for transcription and market analysis. Databases are regularly updated and can be accessed live via the internet in Read-only mode.